Do Windmill Ceiling Fans Really Work?
Not a day goes by where we don't get asked, "Do windmill ceiling fans really work?"
Of course, they work! But we completely understand why you might ask. After all, they do have that too-good-to-be-true vibe to them. For starters, they're absolutely beautiful and, unlike any other standard ceiling fan on the market, quickly become the centerpiece of any room, venue, business, or outdoor space.
Each fan is handcrafted, and the custom finish can match any décor.
They're also easy to install and only weigh 40-60 pounds depending on the size or finish.
"Yeah … yeah … but do they work?" You continue to ask.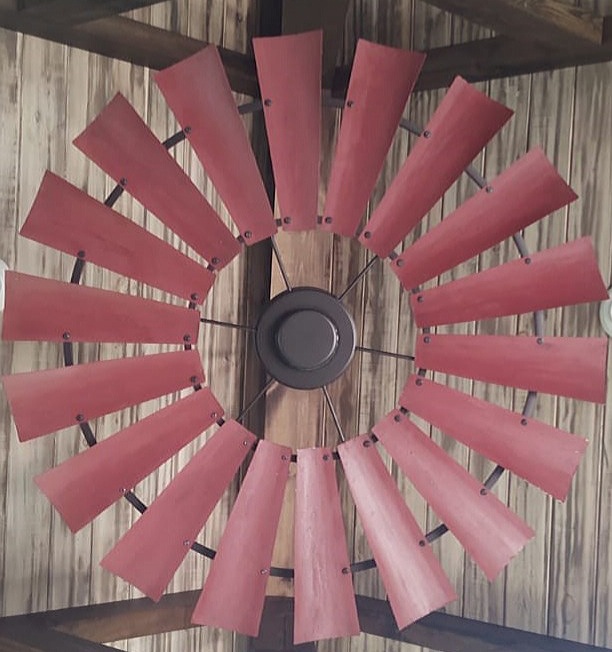 Yes … they really do!
The best ceiling fan is the one that not only looks different than anything you will find on a store shelf but also moves A LOT of air. You know, the kind of air that keeps your space comfortable regardless of whether it's the dead of summer or the peak of winter! We should mention that once a large 15-18 blade fan is hanging on your ceiling, your home now has a gorgeous focal point that everyone sees when entering your home. Windmill ceiling fans from The Original Windmill Ceiling Fan Company in Pilot Point, TX, check all of those boxes and more. Just look at this quick-hit list of benefits our windmill ceiling fans provide:
15 – 18 blades (not the usual three to six on average fans)
Efficient motor integration design for quieter rotation and more efficient velocity
Variable speed
Available in 46", 52", 60", 66", 72", 84", and 96" diameter sizing
Custom finishes to match furniture, fixtures, lights, and metals
Unrivaled strength and craftsmanship
Accessory kit includes everything you need
Quality aluminum and American-made parts
Damp-rated
American Made
This all seems pretty basic, but so many fans out there completely fail to hit these marks. You run it at maximum speed, and it barely makes a dent in your comfort level. Plus, all you hear is the rickety sounds of the blades spinning. We created a product that solves an issue for anyone who values the traditions of farm life as much as we do. Rather than sitting on a shelf in a factory warehouse, our fans are built to order, and our craftsmanship is catered to your every need.
With more fan blades, you can run your fan at lower speeds and move a ton of air with ease.
With aluminum parts, your windmill ceiling fan is guaranteed to last longer than traditional wood or particleboard fans.
Are you wondering why you should get ceiling fans? Want to learn more about our fans? See our selection here.
Simply put, our windmill ceiling fans are the best fans you'll ever own.
The Original Windmill Ceiling Fan Company has fans that really work!
At The Original Windmill Ceiling Fan Company, we pride ourselves on bringing authentic, historically-designed windmill ceiling fans to houses, bardominiums, and outdoor living spaces across America at a price worth every penny. We are the only windmill ceiling fan supplier that provides custom fans to match your personality and style.
Call today at 972-834-5555 or visit www.windmillceilingfans.com. We are here to help you!
If you enjoyed this article, check out How Does the Number of Blades Affect a Windmill Ceiling Fan? and Matt and Brooke Wright from 'Naked And Afraid' Fame are Still Head-Over-Heels For Their Custom Windmill Ceiling Fan