Is Your Ceiling Fan Damp-Rated? If Not, it Needs to Be!
A friend of ours was hosting a housewarming party recently. While everything started great, he ultimately had to hilariously explain his way through a pretty embarrassing moment with his outdoor ceiling fan. Hint: it was an indoor-only fan and not damp-rated! But we'll get to that in a minute.
Now, in fairness, let me first say that his house is absolutely immaculate. It's everything you could want from a traditional suburban cul-de-sac home — lots of trees and lush landscaping, a big backyard for the kids to play, oversized bedrooms, a winding staircase, a media room, hardwood floors … well, you get the picture. Even the neighbors were super friendly. But as we all got the tour and walked out onto his covered patio, you couldn't help but notice this ratty-looking ceiling fan.
And it wasn't just us as fan aficionados at The Original Windmill Ceiling Fan Company who noticed it. Everyone did! It was covered in rust, and the fan blades were warped and hanging down toward the ground.
Surprisingly, the motor still worked. But it clearly didn't match the look and feel of the rest of the home.
All he could do was introduce it as his "mopey fan."
Again, in fairness … he and his wife had only been in the home for a few months. The previous owners installed the fan years earlier, not paying attention to the fact that it was an indoor-only fan and not damp-rated. Our friend and his wife were too busy "beautifying" the rest of the home that they hadn't had a chance to change out the mopey fan.
The good news is that the embarrassment was enough for him to give us a call the very next day! And knowing what we were up against, we were more than happy to customize the perfect outdoor windmill ceiling fan.
What Does Damp-Rated Mean?
We are asked this question at least once a week. All ceiling fans are subject to a rating system to help buyers determine which is the best one for each location. Indoor fans, which are dry-rated, are meant for indoor use, such as in a bedroom, living room, foyer, or dining room. They will not function properly if exposed to water or moisture.
Conversely, outdoor fans are either damp-rated or wet-rated. Granted, they are universal in that they can be used indoors, too. But they are typically located outside. Damp-rated ceiling fans can be mounted in areas with no direct exposure to water, rain, or snow but can handle their fair share of moisture in damp areas and keep the air circulating in that area for years to come.
A perfect example location is our friend's covered patio. Additional areas for a damp-rated ceiling fan include:
Screened porch
Bathroom
Outdoor or indoor kitchen
Carports
Garages
Most of us see a ceiling fan we like and don't even notice if it's for indoor or outdoor use. We may even ignore the sticker on the box altogether and not consider it a big deal — as long as our space looks great!
But trust us when we say an indoor fan installed outside won't work for long. Like our friend's mopey fan, it will rust, warp, melt, crack, and look like an eyesore. Even a little moisture seeping into the unprotected internal components creates extra noise, damages the motor, and can cause an electrical fire.
The Original Windmill Ceiling Fan Company has your damp-rated fans
The good news is that all The Original Windmill Ceiling Fan Company fans are damp-rated! Not only do they withstand indirect moisture, but they also stand up well against humidity and in rooms with poor ventilation. See our selection here.
At The Original Windmill Ceiling Fan Company, we pride ourselves on bringing authentic, historically-designed windmill ceiling fans to houses, barndominiums, and outdoor living spaces across America at a price worth every penny. We are the only windmill ceiling fan supplier that provides custom fans to match your personality and style.
Quickly match the finish of your fan to the rest of your home
A one-of-a-kind look and feel
Not mass-produced
Made in America
Unrivaled strength and craftsmanship
DAMP-RATED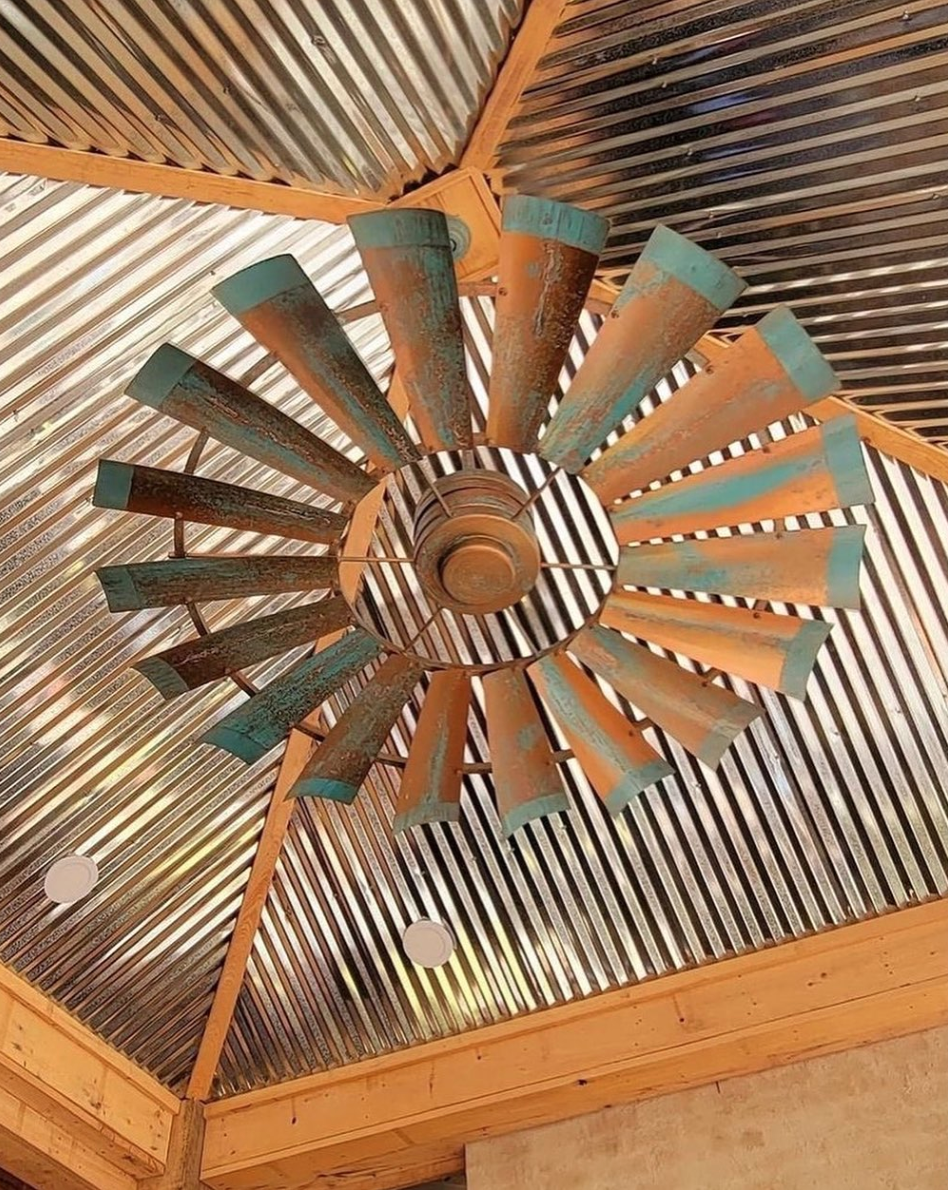 With many sizes and finish options available, our graceful fans are sure to become the focal point of any room while quietly circulating air through your space.
Call today at 972-834-5555 or visit www.windmillceilingfans.com to begin designing your dream fan. We are here to help you!
If you enjoyed this article, check out Is there a difference between indoor and outdoor ceiling fans? And  Former Naked And Afraid Stars Fall in Love with their Custom Windmill Ceiling Fan!