Making the Most Out of Life on the Farm
Always dirty. Always in trouble. That's the best way to describe my life on my grandparents' Kansas farm as a young girl.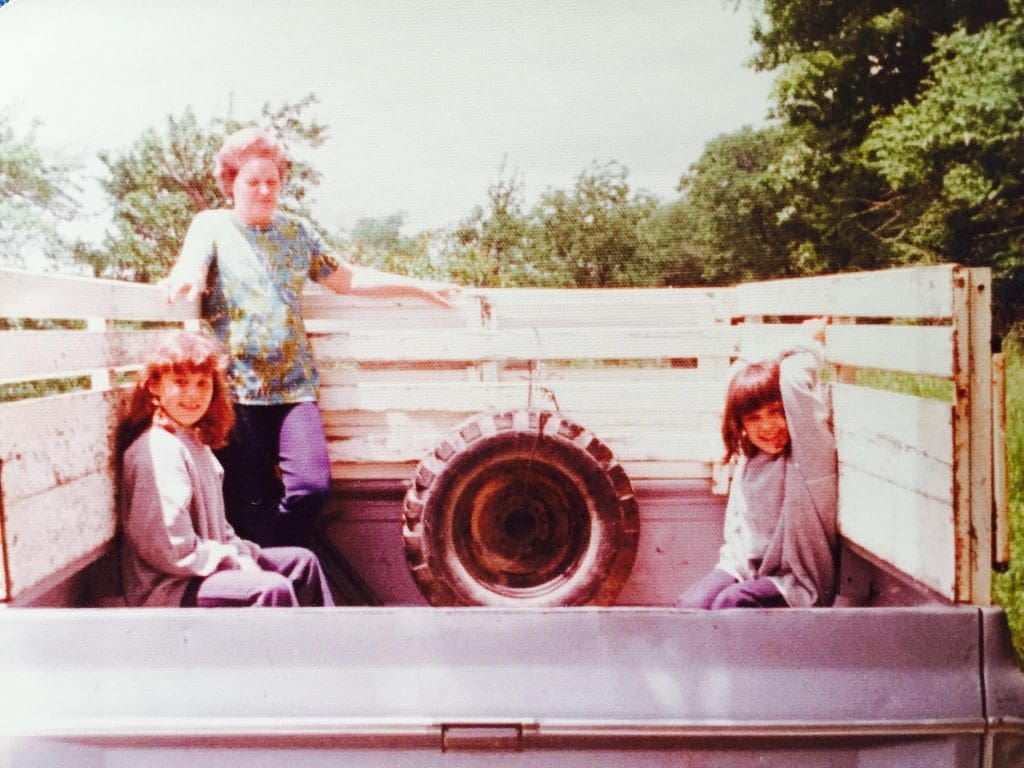 After all, what kids do you know enjoy running behind the manure spreader? And it was never a game of how to dodge the flying manure, by the way. Oh, no, no, no — the goal for me, my sister, Tracy, and cousin Bryan was to be covered from head to toe before my grandparents knew what was happening.
It was horrible. We smelled rotten, and we were a pain to clean. But hey, we were having fun. We were all over that 300-acre farm every Sunday. We also spent practically every summer out there. So, while I didn't actually live there full-time … I basically grew up there.
I still laugh when I think about that all these years later. And there are plenty more outrageous stories where that came from. For example, I can remember clear as day tagging along with my grandmother, Thelma, to sell coon pelts in town. The guy behind the counter was so meticulous — scouring each pelt and deducting money if the dogs left too many holes in the pelts. One time, we were handed a smaller haul than expected. I looked up at my grandma and said, "Those goddamn dogs!!" Needless to say, she was not too pleased. On another day out into town, I got dragged through a feedlot because I hung onto the calf too long. It was quite the lesson learned with manure all over my face.
My grandpa, Bud, looked down and me, stoically shook his head, and said, "Maybe you should let go next time."
After reading the first part of this post, you might be thinking, "Geez, this gal was a ton of trouble." Well, yes and no. Did I pile up my fair share of mischievous antics? Absolutely. But I know Tracy and Bryan would agree with me when I say that we revered that farm. We absolutely adored and respected our grandparents. We loved being out in the rustic, wide-open countryside, taking care of animals, and skipping carefully through their massive garden. We enjoyed feeling the wind blow through our hair as we rode horses … and I still remember staring up into the night sky and thinking, "Thank you, God, for giving me this wonderful life and family."
I always say that each and every one of my favorite life memories come from my grandparents. And any of my good qualities come from my grandmother. As a result, we were the hardest working kids you'd ever hope to have helping you keep everything in tip-top shape. Every day was filled with roll-up-your-sleeves work that included putting up hay, feeding cows, going on coon hunting adventures, chopping wood, and fixing fences. And when I wasn't working, I was helping my grandmother in the kitchen. Boy, was she an amazing cook, too!
Nothing she made was healthy. In fact, the first thing she'd do when meal prepping for Sunday lunches and dinners was to grab a big old tub of lard. That's where she'd start … and the end result was always delicious. She was known for her out-of-this-world pie crust and gooseberry pies. She and my grandpa would occasionally send me out into the timber by myself with a pale to collect as many gooseberries that I could find. I'd spend all day out there and always come back with a bucket full. And for the hard work, my grandpa would always give me a quarter.
That doesn't sound like much, but for a small kid who wanted nothing more than to make her grandparents smile, it meant the world to me. The same can be said for when my grandmother would invite me to help her cook. She taught me to make her famous biscuits and gravy and anything else she felt like whipping up in her magical kitchen.
It's been years since we were out at that Kansas farm. My grandmother passed away six years ago; my grandpa passed a few years before her. And we ultimately sold the farm. But before we did, my grandmother told me that I could take whatever we wanted. My husband and I grabbed a few barn doors and other keepsakes, and we used them to help build our barndominium here in Pilot Point, Texas.
So while I miss those days on the farm, I've got pieces of it here in my home!
Thank you for reading about my family farm and me. What stories do you have from your childhood? Tell me about your life on the farm and how you made the most of it. I can't be the only one who had manure on her face as a kid!
If you enjoyed this article, check out Barbara Van Cleve: A true American cowgirl and an amazing photographer to boot and Cowgirl spotlight: Amy Raymond