Our Custom Western Cowhide Frameworks are ALL the Rage
For years, we've specialized in hand-assembling beautiful, bold Windmill Ceiling Fans for homes, businesses, and more; We are excited to share that The Windmill Ceiling Fan Co is introducing our exclusive custom gallery, Western Cowhide Frameworks! You will be amazed by the innovation behind these custom artwork creations made in America with high-quality American-sourced materials. We pride ourselves on craftsmanship, creating fine farmscape photography and high-end custom frame creations exclusively with quality aluminum and cowhides. Our special cowhide pieces are first-class all the way. These specially made rustic art pieces can be customized in any way you want and are sure to spark a conversation!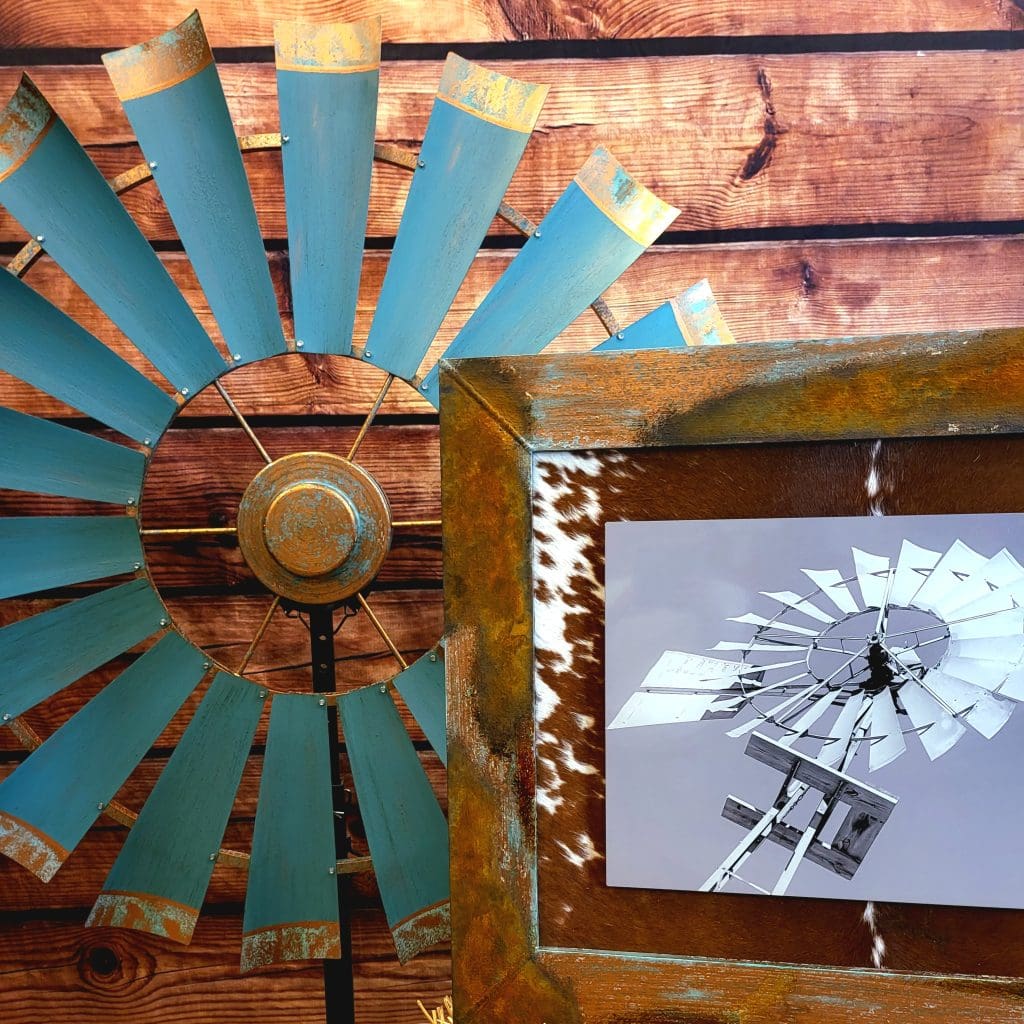 Enjoy the rustic, farmhouse look of our exclusive first Gallery Collection. These elegant displays feature exotic cowhides and sturdy aluminum framing. Their unrivaled design showcases farm life photography, treasures from our family farm, windmills that we see daily, livestock that touches our hearts, and the beautiful views that get us out of bed every morning.
Each piece of this collection has one-of-a-kind features with cowhide accents and custom aluminum framings. They are a true labor of love, and we believe each piece's quality and personal touch will be passed down and stay in families for generations…Every item from this gallery is created exclusively in Texas with only the highest quality American materials, just like our Windmill Ceiling Fans.
We began this journey with our own beautiful farm photos and printed them on durable aluminum for clarity and shine like no other, just like our windmill blades. Our frames are made from the same aluminum as our windmill frames. And the best part is that we can custom-create any finish on our frames and even match or complement the finish on your Windmill Ceiling Fan!!! Then we add the beautiful one-of-a-kind cowhides.
We finish each piece with our own stamp of approval, our WCF brand, and our exclusive signature for you to enjoy – The sky is the limit when it comes to distinctive works of art. Because each order is customized to match a customer's unique personality, style, and taste, these unique, high-end custom pieces of cowhide art will instantly complement your fan, fixtures, decor, and furniture to give you a one-of-a-kind vibe. We know you wanted unique, handcrafted rustic artwork that will complement any room, especially if that room happens to have your custom Windmill Ceiling Fan!
Don't just put artwork in your home—create a unique statement about your family and home's style!
Perhaps there's nothing more satisfying about a home than a homogenous theme. It means that a ton of planning and detailed thought went into every nook and cranny, and the result is something you can be proud of for years to come.
Why Custom Frameworks With Cowhide?
Cowhide is one of the most identifiable design elements of the western style. Some reports suggest that we have been using animal hides since the prehistoric era, which makes sense since furred skin provides warmth and protection. Native Americans turned cowhiding into art by creating cowhide rugs to use as coverings for the shelters they lived in. Some wore them like clothing used for decorative purposes over time.
For centuries, cowhide has been used for everything from rugs and leather furniture to blankets by the fireplace, mounted game, and even animal-themed art and upholstery. Cowhide retains the original color of the animal.
It's also incredibly durable, making it an easy choice when looking for a country-inspired decorative touch. We personally love the look, texture, and depth it brings.
A few additional benefits of cowhide include:
Versatility
Natural markings
Longevity and durability
Added texture
Warmth
Easy maintenance
Our custom cowhide picture frames are a must-have for any indoor or outdoor space. And, as we said earlier, they can be customized to match that amazing windmill ceiling fan you've already purchased.
Call The Original Windmill Ceiling Fan Company today!
Our one-of-a-kind Windmill Ceiling Fans AND custom Western Cowhide Frameworks are hand-cut, hand-assembled, and hand-packaged at our Pilot Point, Texas warehouse. We deliver a one-of-a-kind look and feel and unrivaled strength and craftsmanship.
We are the only company that provides custom fans, frames, and photography to match your personality and style. Call today at 972-834-5555 OR visit www.windmillceilingfans.com!
If you enjoyed this article, check out Reasons to Bring the Outdoors Indoors and ​​ The Exotic History of Cowhide.