Revamp Your Home with Exquisite Cowhide Furniture: 6 Factors You Can't Ignore!
Cowhide furniture is the way to go when it comes to transforming your home into a stunning and unique space! The market offers an incredible array of options, making it an exciting but overwhelming experience for even the savviest buyers. Picture this – a bold and beautiful windmill ceiling fan, charming fixtures, accent pieces, and more, all complemented by the perfect cowhide furniture. 
But wait, there's a catch! How do you know if you're getting the real deal?
BEFORE you whip out your credit card to purchase that dreamy sofa, loveseat, or ottoman, let's delve into six essential factors to ensure you get the finest cowhide furniture for your home.
Unravel the Genuine: Look for 100% natural leather; the label should proudly boast "100% real leather." Synthetic or fake cowhide, on the other hand, will have a label stating "man-made material." So, to experience the luxury and authenticity of genuine cowhide, check that label!
Origins of Elegance: It is recognized that genuine cowhide from Brazil is the best in the world. But quality hand-made cowhide is produced everywhere, including right here in America, by hard-working people who respect the beauty and history of cowhide leather.
Durability for the Ages: The secret to long-lasting cowhide furniture lies in its thickness. Genuine cowhide has a robust and weighty appearance, making it less prone to wear, curling around the edges, or fading like thinner materials.
The Trustworthy Source: Beware of dealers trying to pass off inferior cowhides as genuine leather. Instead, choose a reliable supplier who crafts furniture passionately and is committed to quality. Look for trust, comfort, and a unique design that will last a lifetime.
Harmony in Colors: Your cowhide furniture should seamlessly blend with your existing color scheme, throw pillows, accent pieces, and other furniture items. From cowhide picture frames to wrapping your windmill ceiling fan motor in cowhide, the goal is to create a harmonious and captivating atmosphere.
Measure Twice, Buy Once: There's nothing worse than falling in love with a piece of furniture only to find it doesn't fit through the door or overwhelms your intended space. Avoid this heartache by measuring appropriately before making your purchase.
Question is, WHERE do you find REAL custom cowhide furniture? Visit our friends at Ranch & Co Interiors.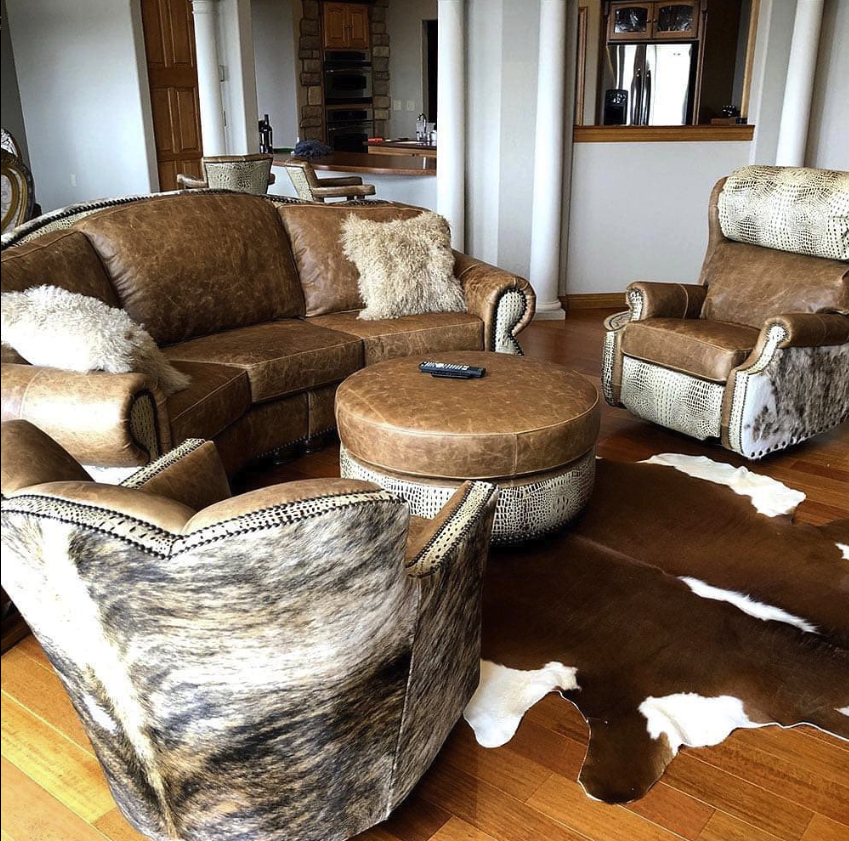 Get ready to immerse yourself in a world of custom cowhide and leather furniture for your home. Our sister company, Ranch & Co Interiors, is your go-to destination for genuine, high-end cowhide and leather goods. They are experts in curating exquisite pieces that will elevate your home decor to a whole new level.
And the cherry on top? At The Original Windmill Ceiling Fan Company, we've recently incorporated cowhide into our products, including custom cowhide framed photography AND the option to wrap your Windmill Ceiling Fan motor in the finest cowhide leather or cowhide print!
Trust us; it's a design statement that will leave your guests in AWE!
Meanwhile, our fans AND custom cowhide picture frames are hand-cut, hand-assembled, and hand-packaged at our Pilot Point, Texas warehouse, where we deliver a unique look and feel and unrivaled strength and craftsmanship.
We are the only windmill ceiling fan supplier with custom fans matching your personality and style!
Why Choose Us?
Quickly match the fan finish to your home's decor
Experience a unique look and feel
Not mass-produced – every piece is special
Proudly made in North Texas
Damp-rated for durability and performance
Make your home a reflection of your personality and style. Call us today at 972-834-5555 or visit www.windmillceilingfans.com to explore the exquisite world of cowhide furniture and windmill ceiling fans. Get ready to be captivated!