Stylizing ANY outdoor living space with Original Windmill Ceiling Fans
Personal Style and Design
There are more amazing benefits to our windmill ceiling fans than we could count, but if we had to pick the biggest draw, it would be that they are 100 percent customizable to any space and style. That means instead of being mass produced, our fans are hand-crafted right here in the USA and built to suit your needs.
Still, a common misconception might be that our fans are geared more for barndominiums and the outdoor spaces that surround them. While it's true we do have many clients who want to customize their barndominiums inside and out – heck, we own one, too – we are by far a one-trick pony. The fans from The Original Windmill Ceiling Fan Company are great for ANY space and ANY style, whether you live on a farm, on a ranch, or you own a vacation beach getaway.
 Case in point: I recently received a call from a custom home builder who was designing a 10,000 square-foot ranch house for one of their clients. If you've ever worked with a custom home builder or interior designer, you know that every small detail is carefully thought out and designed to create a consistent look and feel throughout the property. This is accomplished through everything from which fixtures to install to the flow of colors, finishes, and fabrics for seating areas, walls, kitchen designs, etc.
This particular builder was working on a lavish outdoor space that not was not only covered but was being designed in such a way that it would be an extension of the indoor space. It was a massive project. To make a long story short, they were looking for additional accent pieces and called The Original Windmill Ceiling Fan Company in hopes of rounding out the project with two custom ceiling fans.
Those ceiling fans, of course, were designed to fit seamlessly into the project. And we were excited to be a part of it.
When you are faced with a decision for any type of living space design, give The Original Windmill Ceiling Fan Company a call. Not only are we confident our ceiling fans can be a unique addition to your ranch or beach house, but you also get:
A company willing to work closely with the homeowner to understand their style
A company willing to partner with your home builder and/or design specialist
A company willing to learn as much as possible about the decor in the house
A company willing to go to great lengths to ensure everything fits the way the client envisioned
A unique ceiling fan that not only cools the space but also becomes a must-have accent piece.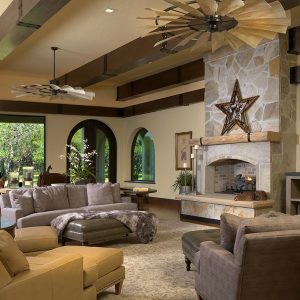 Call The Original Windmill Ceiling Fan Company today!!
The Original Windmill Ceiling Fan Company is the best choice for your next ceiling fan purchase, no matter where you live and no matter if it's for your interior or for decorating outdoor spaces with windmill ceiling fans. Rather than sitting on a shelf in a factory warehouse, our fans are built to order, and our craftsmanship is catered to your every need.
Need more examples of how we work our magic? CLICK HERE to view the client gallery.
Give us a call today at 972-834-5555 or visit www.windmillceilingfans.com.
We are here to help you! Thanks for reading!
Don't forget to subscribe to the articles today. Subscribe box is found in the right sidebar.