Using Metals in Your Home Decor
When we think of home decor, we usually think in terms of fabrics and wood, with perhaps some plastics too. We don't normally include metals in our home decor planning, but there is really no reason not to. Metals, if carefully and tastefully chosen, can add significantly to your home design, transforming it from the mediocre to the stunning and impressive.
Your kitchen is probably the easiest room to mix metal with fabrics and wood. You may already have a stainless steel sink, a dishwasher and perhaps a washing machine and dryer – all made extensively from metal. You may also have pots and pans, knives and other cutlery hanging up, or in containers. This could mean that adding extra metal as part of the home decor to your kitchen is not too easy, or even advisable.
The other room in your home that lends itself well to metal decor is your bathroom. It is usually best to decide on whether to have bronze, brass, steel, iron or chrome dominating, and expand from there. Rich, dark brass faucets with a matching shower-head works well, especially if you also have similar styled doorknobs. This theme can be carried on throughout the room on the toilet seat fittings and sink and bath tub fittings.
The furniture in your living room is probably clad in a fabric, or leather, but it doesn't have to be. Chairs and settees can easily be made from metal, incorporating gleaming chromes and stainless steels, or perhaps deep bronzes and bright brass fittings. The part where you actually sit can of course be every bit as comfortable and luxurious as any fabric-clad settee. You just need to allow the metal parts to shine through.
Your sitting room is often the main room of the house, and here you can extend the metal theme by having wall pictures or paintings in metallic frames. An old-style brass and Bakelite telephone stand, even if it doesn't function, will always look good in any sitting room, as will smaller accessories, such as a metal-bound, antique-look jewelry box, for example.
The lighting in your home offers an excellent opportunity for displaying metal. Free-standing lamps can be in steel, chrome or brass, and the lights fitted to your ceiling or walls can display similar characteristics too. You could also have a variety of metal accents throughout the room that complement the lighting fixtures, such as chrome or bronze borders on mirrors, for example.
There are basically two ways to go with metals in your home decor: modern or antique. For a modern look, choose bright and shiny metals, or a dulled, burnished appearance. Chrome, aluminum and stainless steel work best here. An antique look requires metals like brass, bronze and cast iron. They can have a rougher look and feel and still work well. Both styles are easy to achieve with a little thought.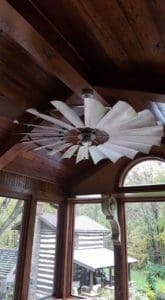 If you have a Windmill ceiling fan installed in your home, you are already halfway there with a metal decor style. The multi-blade fan is metallic and looks like an American windmill fitted horizontally, instead of vertically. It's supposed to look like that, of course. Adding other metal accents and features in the room to complement your Windmill ceiling fan then becomes very easy, and very effective too.
Are you ready to design your mixed metal home decor plans? Choosing the right Windmill Ceiling Fan Finish might be more difficult now that we have more options to choose from. Do you need your fan to be a focal point or just an accent to the remainder of your room's decor? Call our Specialists if you need personal help.