As many designers know, using color is a science in itself and can dramatically impact the aesthetics of an exterior or interior. While many may fear too dark and gloomy hues, Black can provide a great backdrop to use other colors, textures, and tones. Black adds definition and a sleek sense of style. Trends come and go, but the use of Black in a home has become a style staple, so tell all your friends that hues of gray are out and Black is the new Black!
When our clients say: "we're thinking of something black," our next thought is what kind of Black? We handcraft everything, which means no two fans are alike, and you have complete control of the fan design from start to finish.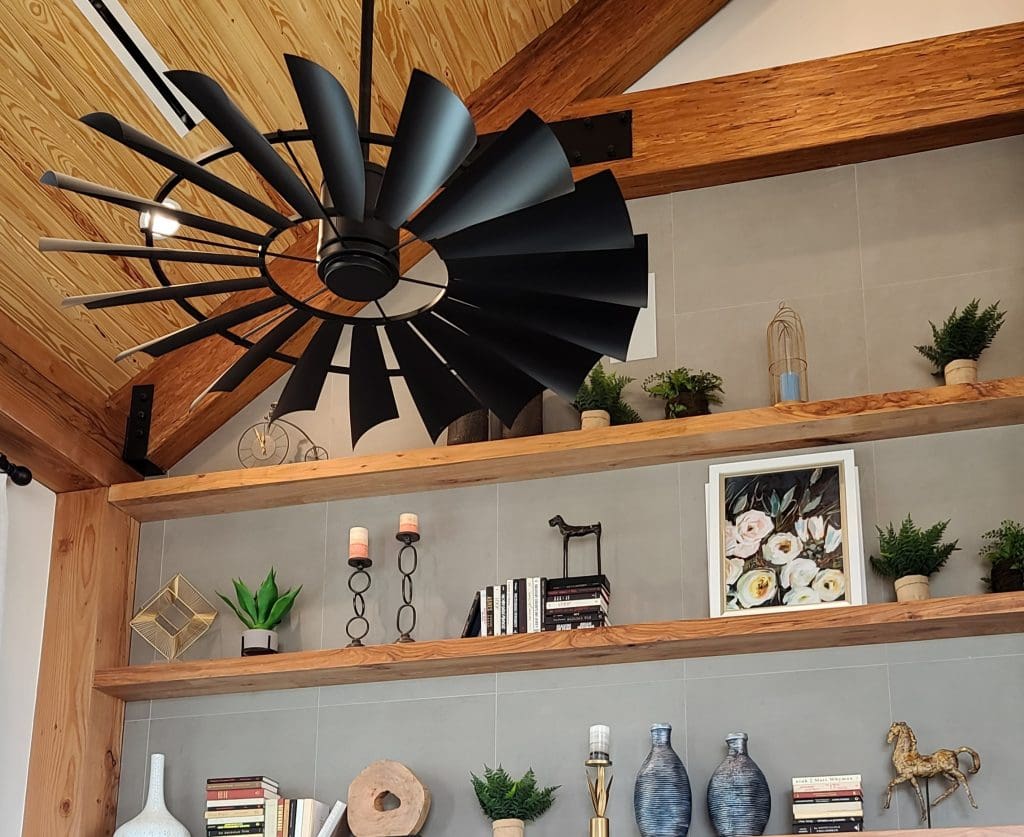 We offer MANY variations when it comes to Black; to name a few, there is our Matte Black, Bandero, and Brahman Tinge finishes. How could you go wrong with Black? Chic, elegant, timeless, and hardly ever go out of style. It's so incredibly popular right now, and the BEST news is that there are endless ways to incorporate our array of Black-based fan finishes into your home.
Utilizing Black in your design helps to add drama; Black is a color that you can't ignore; bold and dramatic, it can lend some serious sophistication to any space. Black can be very impactful when used in a duo or trio of contrasting colors; black-white-red, black-white-teal, black-and-teal, and so on.
For a modern feel, we can powder coat our windmill ceiling fans all Black with a high gloss finish. Also known as our Bandero windmill ceiling fan. Solid black, this finish is a sleek combination of our Matte Black fan and blades with vibrant, shiny gloss black tips. And if you're looking for something with flair, our Red Baron may be your finish. With matte black blades and rich red tips, you can practically feel the texture of a classic old red barn in this custom creation. This bold red and black fan color combination would pop in any space.
Black decor, pieces of furniture, or black accents can help develop dimension in your home's decor and has the potential to be a conversation starter. For example, this shot of a well-put-together family space. Our Matte Black Windmill ceiling fan pops out of the photo with the light wood shelving, greenery, and black decor accents behind it. With the Black accents and Black windmill ceiling fan, the whole room feels cohesive, sophisticated, and refined — anything but dull.
Matte Black is becoming the finish of choice, especially regarding decor. Regardless of whether your aesthetic is modern, contemporary, farmhouse, industrial, and so on, Black is a classic design color that never goes out of style. Matte is used to characterize finishes that lack gloss's mirror and shine properties like our Matte Black Windmill Ceiling Fan.
For a more rustic-aged look, we have our Charred Whiskey Barrel finish. Think of that special end to a roaring fire, and you have this custom windmill fan creation. The copper tones from the burning embers engulf the back of the blade on this design and the wood remnants that have turned to charcoal span the face of the blade. This fan is our first multi-finish design, a one-of-a-kind that is ideal for when you want to utilize black with other textures and hues in your design.
Bottom line, the options are endless, and Black's versatility is part of its charm! When done with intention, utilizing Black in your home can be dramatic, timeless, and push the envelope on the elegance dark colors can bring to your home!
The Windmill Ceiling Fan is reminiscent of the old farm-style windmills, incorporating a large diameter and strong blades to create a surprisingly efficient and delightfully inexpensive product. Our fans are hand-cut, hand-assembled, and hand-packaged at our warehouse in Pilot Point, Texas. Each fan's last nook and cranny, right down to the lightweight aluminum custom finish, is made to suit each order. On top of that, we deliver a one-of-a-kind look, feel, and unrivaled strength and craftsmanship.
We are the only windmill ceiling fan supplier that provides custom fans to match your personality and style.
Quickly match the finish of your fan to the rest of your home
A one-of-a-kind look and feel
Not mass-produced
Hand-crafted
Made in America
Unrivaled strength and craftsmanship
Ready to order yours? Give us a call today at 972-834-5555. We LOVE to chat with all our customers or visit www.windmillceilingfans.com.
If you enjoyed this article, check out Rustic Windmill Ceiling Fans. What does that mean? And What Makes a Custom Finish Option for Windmill Ceiling Fans so Awesome?