What Makes a Custom Finish Option for Windmill Ceiling Fans so Awesome?
Imagine that you have a perfectly designed and decorated home, from the furniture to the tiniest of accent pieces. All that's missing is a windmill ceiling fan to make everything pop. But rather than pour over countless online catalogs or search store shelves for something that might match, you have the option to customize your fan's look from scratch.
Maybe it's a turquoise finish for the blades and a thin matte black line to define the tips.
Oooh, but a weathered barn tin look might be great on the patio! Now that would really speak to your style.
If you were faced with this custom finish option, would you take it? Of course, you would! Looking for hours on end at store shelves to find just the right color or finish takes the fun out of purchasing a ceiling fan. The odds are high that you won't find what you want. And besides, who wants a mass-produced product that looks like someone else's?
What you deserve is a fan that's unique to your family's style and traditions. That's what makes a custom finish option for windmill ceiling fans so awesome! And we offer that every day at The Original Windmill Ceiling Fan Company.
Imagine a windmill ceiling fan that checks all of these boxes:
Personable and unique — no two fans are alike
Match fixtures and furniture with ease
Designed to fit the size and space of your home
Unrivaled strength and quality craftsmanship — Not only do you have control over the design of the fan but there is more attention to detail in both the hand crafting of the fan and in the assembly by hand.
Assembled in Texas
There's no need to imagine anymore. A custom finish option can be your reality!
From the blades to the motor, every inch of our windmill ceiling fans is customizable and built to suit. We once had a customer choose a finish to match their favorite car. We've had others who have chosen a silver-colored and galvanized look, a weathered look, and rustic copper.
Need something that's powder-coated or in an oil-rubbed bronze look? We can do that, too.
Since you are creating the space that you will spend a lot of your time in, you might as well create an atmosphere you love. There's something satisfying about a home that has an overall homogenous theme to it. It means plenty of planning and detailed thought has gone into the preparations, and the result is likely to impress your guests.
A great example is the most recent customization we added to one family's gorgeous windmill ceiling fan. The family's ranch brand. Adding this very unique ranch brand to the fan's blades, created a one-of-a-kind look and customization no other person will have, ever. Take a look below. 😃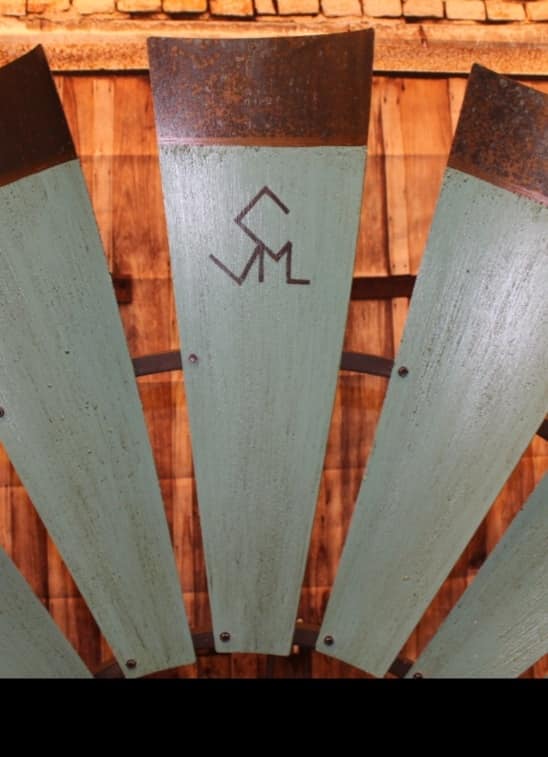 Call The Original Windmill Ceiling Fan Company today!!
The Original Windmill Ceiling Fan Company is the best choice for your next custom windmill ceiling fan purchase. Sure, there are tons of options out there when it comes to mass-produced products, so you could keep looking and pray that you find that prized needle in the haystack. But who has that kind of time?
Rather than sitting on a shelf in a factory warehouse, our fans are customizable. And our craftsmanship is catered to your every need. Every last nook and cranny of each fan, right down to the lightweight aluminum custom finish, is made to suit each order. On top of that, we deliver a one-of-a-kind look and feel and unrivaled strength and craftsmanship.

Do you want to learn more? Give us a call today at 972-834-5555 or visit www.windmillceilingfans.com.
If you enjoyed this article, check out 4 Advantages of Using Aluminum to make Windmill Ceiling Fans and  How Cooling a Barndominium Led to The Original Windmill Ceiling Fan Company.