Can Holiday Decorations Be Rustic?
You don't have to be an expert interior designer to hear the term "rustic" and immediately think of log cabins, a weathered look that says something has been around for ages, and colors that are approachable, relaxed, calming, earthy, and traditional. Rustic is easily one of the more recognizable design trends today, and everyone wants to recreate that perfect look in their country home— no matter what time of year we're talking about!
Naturally, this begs the question: Can holiday decorations be rustic, too?
In a word — Absolutely! And the best part is achieving that rustic holiday look doesn't have to be expensive.
Simple ways to create a rustic holiday look
Too many people get caught up in the traditional aspect of the holidays. Take Christmas, for example. Why is it that you "have to have" a gigantic Christmas tree with multi-colored lights, silver garland wrapped end-over-end down the spiral staircase, gingerbread men and reindeer, red and green stockings, and a blow-up Santa Claus in the front yard?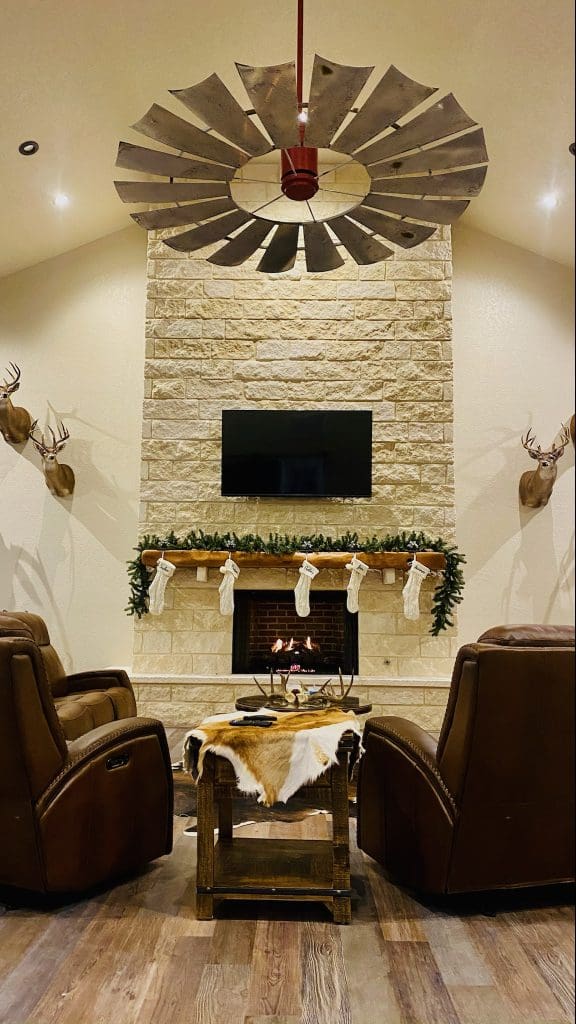 Those are all incredible decorations, and just thinking about them floods the mind with unforgettable childhood memories. But keeping those time-honored traditions alive and well doesn't mean you can't experiment with some country flair.
Here are just a few natural colors and textures that quickly give your home a rustic holiday makeover:
Mason jar crafts
Decorative pinecones for wreaths and baskets
Burlap, twine, and rope
Clear, white bulbs for holiday lighting
Plaid stockings
Trees and leaves for a nature-inspired staircase
Non-straight lines
Rustic signs and accent pieces
Once you go rustic for the holidays, get the windmill ceiling fan to match.
Once you have the perfect rustic design for your space, the last thing you want is for the ceiling fan(s) not to match. Unfortunately, most fans on store shelves aren't going to match whatever look you're going for at home. This is where The Original Windmill Ceiling Fan Company can help. Rustic designs are some of the top finishes our customers ask about when customizing the perfect windmill fan. And the possibilities are literally endless.
Imagine a windmill ceiling fan that checks all of these boxes:
Personable and unique — no two fans are alike
Match fixtures and furniture with ease
Designed to fit the size and space of your home
Unrivaled strength and quality craftsmanship — Not only do you have control over the design of the fan but there is more attention to detail in both the manufacturing of the fan and the assembly.
Assembled in Texas
The perfect windmill ceiling fan can be your reality!
Every inch of our windmill ceiling fans, from the blades to the motor, is 100% customizable and built to suit all of your rustic design needs. Sure, there are tons of options for mass-produced products, so you could keep looking and pray that you find that special needle in the haystack. But who has that kind of time?
Rather than sitting on a shelf in a factory warehouse, our fans are 100% customizable. And our craftsmanship is catered to your every need. Every last nook and cranny of each fan, right down to the lightweight aluminum custom finish, is made to suit each order. On top of that, we deliver a one-of-a-kind look, feel, and unrivaled strength and craftsmanship.
Do you want to learn more? Give us a call today at 972-834-5555 or visit www.windmillceilingfans.com.
If you enjoyed this article, check out 5 Ways to Prepare Your Home for the Fall Season and How Cooling a Barndominium Led to The Original Windmill Ceiling Fan Company.