EVERYTHING You Need to Know Before Buying a Ceiling Fan From The Experts!
Everyone and every space could benefit from a quality ceiling fan, and the best news is that we will always have options in that department!
Whether buying a ceiling fan from a department store or purchasing a custom piece, there is an endless array of fans for every need and design style.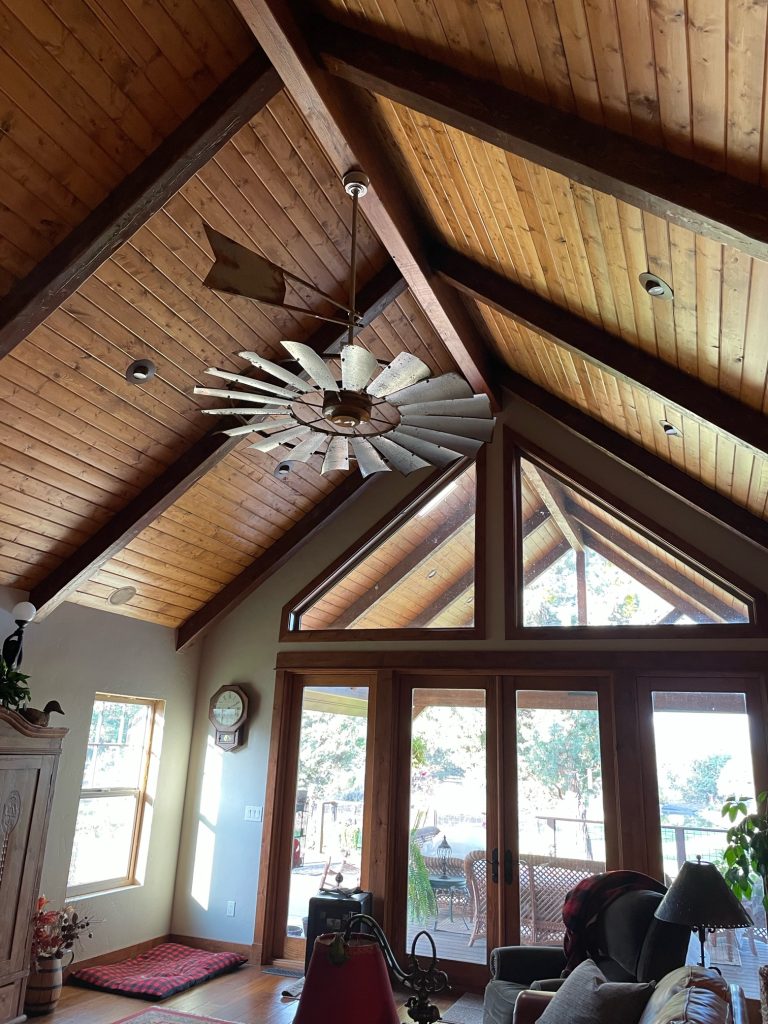 But that's just the thing — more options can be overwhelming, and decision-making can be mentally tasking.
Your friends here at The Original Windmill Ceiling Fan Company thought we'd put together a short and sweet list of the essentials you need to know before buying your next ceiling fan.
The Short List:
Large Rooms Need Larger Fans — This should go without saying. But more often than not, we see homeowners fall in love with the look of a particular fan without fully considering the size of the room or space where it will be installed. The next thing they know, they have a fan that can't cool the space because it's too small, or sometimes, the fan is too overbearing for a smaller space. It's essential to calculate the size of the space, then compare that with the fan's diameter. All the measurements you need to know when it comes to deciding on the fan size needed are the ceiling height, is there a slope? And the location of central and air ducts in relation to your ideal placement for the fan. For some larger rooms or elongated outdoor patio spaces, purchasing more than one windmill fan makes sense.
Low Profile vs. Front and Center — When we say "low profile," we are talking about a fan that mounts directly to a ceiling bracket without using a downrod. These fans are flush mounted to hug the ceiling and are perfect for smaller spaces with low ceilings at eight feet or less. If you prefer using a down rod, make sure you have enough space to allow the blades to spin comfortably without hitting anyone or anything in the room. As a general rule, you want the fan blades to be at least 7 feet off the ground and blade tips to be at least 30 inches from the nearest structure or walls to avoid any damage or safety hazards. All downrods are custom-made to go with the length you need for your space; in the past, we've made downrods as long as 20 feet and as short as 9 inches.
Indoor vs. Damp-Rated — All ceiling fans are subject to a rating system to help buyers determine the best one for each location. Indoor fans, which are dry-rated, are meant for indoor use, such as in a bedroom, living room, foyer, family room, den, man cave, or dining room. They will not function properly if exposed to water or moisture. Conversely, outdoor fans are either damp-rated or wet-rated. Granted, they are universal in that they can be used indoors, too. But they are typically located outside on covered patios, outdoor kitchens, etc. Damp-rated ceiling fans can be mounted in areas with no direct exposure to water, rain, or snow but can handle their fair share of moisture in damp places and keep the air circulating in that area for years to come. Windmill Ceiling Fans are damp-rated, which means they can be used and function well in indoor and outdoor spaces.
Want to read more about buying a damp-rated ceiling fan? Click here to read our latest blog post.
Downrod Length — A downrod is a short extension pipe that runs from your fan's motor housing to the ceiling bracket. It is commonly used in rooms with tall ceilings to enhance your fan's functionality, circulate more air, and overall stability. Most people don't worry about the downrod length and work with the one that comes with the fan. More often than not, you will be fine with this approach. But the general rule is to keep your fan 8-9 feet above the floor.
To determine the appropriate downrod length when buying a ceiling fan: Ceiling height (in feet) minus 9′ (includes the fan height) = Downrod length. For example, if your ceiling is 12′ high, you will need a 3′ downrod.
Can buying a ceiling fan help me save money? — YES! You'd be surprised how much a few quality ceiling fans can ease the stress on your HVAC unit in the summer and winter months. Ceiling fans that are more than a decade old should be replaced asap. ENERGY-STAR options are 60% more efficient than traditional options since both the motor and blades are optimized to save energy.
Here are a few key points to consider when purchasing AND USING your next ceiling fan:
Pick sizes carefully to avoid utilizing more energy than necessary or choosing a fan that isn't big enough for the space.
Take notice of both of our motors as another energy-efficient option. DC motors have internal magnets of opposing polarity, creating the torque needed to rotate the blades.
Energy-efficient ceiling fans are also less noisy than traditional fans.
Compare fans based on the breeze they create regardless of the blade pitch. The more air each fan can move, the better — especially in larger rooms where air must constantly circulate.
Set your fans to rotate counter-clockwise in the summer and clockwise in the winter.
Turn fans off when you're not in the room to avoid wasting energy.
Choose a style, color, and finish to match your decor — You need a ceiling fan, but you also don't want it to stick out like a sore thumb. These days, ceiling fans can be customized to match your room decor, style, and taste. So don't settle for anything less. The Original Windmill Ceiling Fan Company can customize your fan to match your design needs. Our fans can be any design you can come up with; in the past, we've matched fans to furniture, home hardware, cars, sports teams, and more.
Call The Original Windmill Ceiling Fan Company Today!
Our 18-blade Windmill Ceiling Fans are hand-cut, hand-crafted, hand-painted, and hand-packaged on our ranch in Pilot Point, Texas. Every element of each fan, right down to the custom-created finish, is made to suit each order.
On top of that, we deliver a one-of-a-kind look, feel, and unrivaled strength and craftsmanship. We are the only windmill ceiling fan supplier that provides custom fans to match your personality and style, made of lightweight aluminum for easy installation with 18 perfect blades!
Quickly match the finish of your fan to the rest of your home
A one-of-a-kind look and feel
Not mass-produced
Made in America
Unrivaled strength and craftsmanship
Call today at 972-834-5555 to chat with Kelly and design your dream custom Windmill Ceiling Fan today or visit www.windmillceilingfans.com.