Historic Windmill Ceiling Fans Were Built for Hot Summer Months
Psst. Summer is coming. OK, who are we kidding? It's already here. But as the calendar eventually flips from May and June to July and August, those hot temps we think we see right now will skyrocket. AC units from the country all the way to the bright lights of the big city will kick into overdrive, and every ceiling fan you own will be set on full blast.
So here's the age-old question: Is there a better way to move a lot of air and keep ourselves cooler for longer? The answer is yes — as long as you have a historic windmill ceiling fan.
After all, they were built for hot summer months!
It's the historical design that makes windmill fans so efficient
At The Original Windmill Ceiling Fan Company, we call it a windmill fan because that's what it is. They're just like the farm-style, historic windmills overlooking hundreds of thousands of country homes across the country. Our owner, Kelly Eggers, was glancing up at the one on her property a little more than six years ago when she had an epiphany — if her husband could make an aluminum version lightweight enough to attach to any ceiling, surely it would drive the air down where the standard AC could then cool it. Kelly's idea was perfect, and now, more and more people want one of their own.
Think about all the benefits windmill ceiling fans provide in comparison to mass-produced, store-bought fans:
The special angle of the blades naturally propels more air.
They come in 14 to 18 blades for optimal air movement for rooms with high ceilings.
Available in 46″, 52″, 60″, 66″, 72″, 84″ and 96″ diameter sizing. No other fan can match that.
Our windmill fans are constructed only of quality aluminum and steel.
They can move tons of air even at a slower rotation.
When you're trying to move a lot of air — especially in the summertime, where comfort is the name of the game, no ceiling fan on the market can match the strength, craftsmanship, and efficiency of a windmill ceiling fan.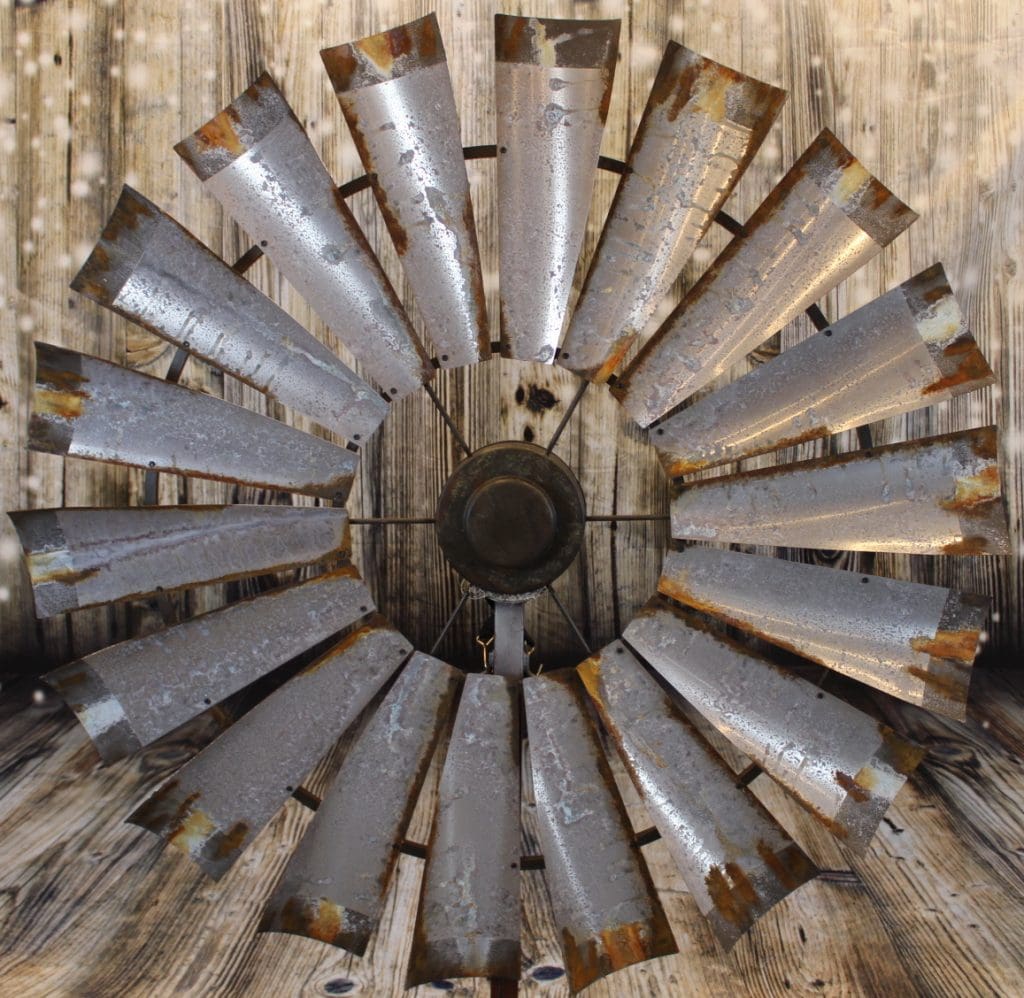 Don't overlook the lightweight aluminum
Ceiling fans, especially those that go outdoors, SHOULD NOT be made of wood. Having a wood ceiling fan on your outdoor space may add that natural element you've been looking for, and it may even look pretty. But it's not durable, especially in North Texas, where the summer temps are tough to hold up against.
Over time, wood-based ceiling fans, and even those made from particleboard, will:
Warp, fade, and sag
Become weather-beaten
Suffer from unsightly chips and cracks
Become water-logged
And overall, they will look cheap
Our blades are made of aluminum. That means they are strong and built to last. And what's better is that they are assembled in Texas and can be 100% customized to suit your style and taste. So even if you like the "wood look," you can get that with our custom finishes. These fans can match any style, whether you enjoy rustic, farmhouse, or contemporary.
Simply, it's the best ceiling fan you will ever own.
Call The Original Windmill Ceiling Fan Company today!!
The Original Windmill Ceiling Fan Company is the best choice for your next custom windmill ceiling fan purchase. And there's no better time to make that leap than right before the dog days of summer take hold. Sure, there are tons of options out there when it comes to mass-produced products, so you could keep looking and pray that you find that prized needle in the haystack. But who has that kind of time?
Rather than sitting on a shelf in a factory warehouse, our fans are 100% customizable. And our craftsmanship is catered to your every need. Every last nook and cranny of each fan, right down to the lightweight aluminum custom finish, is made to suit each order. On top of that, we deliver a one-of-a-kind look, feel, and unrivaled strength and craftsmanship.
Do you want to learn more? Give us a call today at 972-834-5555 or visit www.windmillceilingfans.com.
If you enjoyed this article, check out Keeping it Cool With Unique Ceiling Fans and Outdoor Ceiling Fans that Keep You Cool.