The First Windmill Ceiling Fan: Then and Now
When our fearless leader Kelly Eggers sat down with her husband to build a windmill ceiling fan six years ago, they designed it entirely with their wants, needs, and style in mind. There weren't any thoughts of creating a windmill ceiling fan business one day. They were focused on finding a way to cool down their own space. They had a large barndominium in Pilot Point, Texas but like so many other people, they didn't consider how difficult it was to cool it down.
So they got to work on solving the problem by themselves. The original fan template was 66 inches and made from aluminum and steel, and like we've said a thousand times over, it did move air. The Galvanized Silver Finish was the first finish created, photos below.
We all know what happened next: one person saw it, and then another, and another.
Then the next thing the Eggers knew, they had a new growing business on their hands.
And they haven't looked back since.
A big part of their success is that they listened to their customers and provided customization of each fan ordered. As great as that original 66-inch aluminum and steel fan looked — and worked — people wanted something different, personalized.
That meant different styles, colors, motors, sizes, and more.
"Because it was made of aluminum, it was, of course, shiny. And that's one of the first things people asked about — 'How can I get a rustic look?'" Kelly said. "It was a painstaking process trying to tarnish aluminum. We tried fire, acid, and even a combination of the two. I don't know where I came up with the idea of painting them, but that truly is how you get that rustic look everyone wanted while maintaining the lightweight and durable features everyone loved.
"I couldn't tell you how many finishes we have now. It's the same with the sizes, whether indoor or outdoor use, and even different motor options. We just listened, learned, and created."
If you were faced with this custom finish option, would you take it?
Of course, you would! Looking for hours on end at store shelves to find just the right color or finish takes the fun out of purchasing a ceiling fan. The odds are high that you won't find what you want. And besides,, who wants a mass-produced product that looks like someone else's?
What you deserve is a Windmill Ceiling Fan created to your family's unique style and traditions.
Maybe it's a turquoise finish for the blades and a thin matte black line to define the tips or your ranch brand to add the final touch.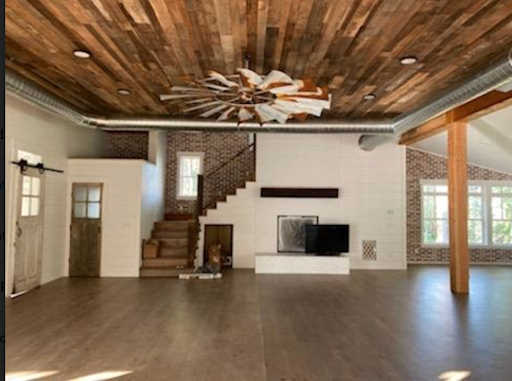 Oooh, but a weathered barn metal look might be great on the patio! Now that would speak to your style.
That's what the Original Windmill Ceiling Fan Company specializes in! Every inch of our Windmill Ceiling Fans is 100% customizable and built to suit from the blades to the motor. We once had a customer choose a finish to match their favorite car! We've had others choose a silver-colored and galvanized look, a weathered look, and rustic copper. Whatever you choose, you'll have the support of our team every step of the way from design conception to creation right here at our shop in North Texas.
A few popular design trends, colors, and available materials for Windmill Ceiling Fans include:
Matte Black
Rustic Rose Gold
Weathered Barn Metal
Weathered Texas Turquoise
It's the historical design that makes windmill fans so efficient — and popular.
We call it a windmill fan because that's what it is. They're just like the farm-style, historic windmills overlooking hundreds of thousands of country homes across the country. We started with one version and today have ceiling fans that can be customized to any taste, style, preference, or need.
Personable and unique — no two fans are alike
Match fixtures and furniture with ease
Designed to fit the size and space of your home
Unrivaled strength and quality craftsmanship — Not only do you have control over the design of the fan but there is more attention to detail in both the handcrafting of the fan and in the assembly by hand.
Made in Texas
"We just keep developing to satisfy our customers," Kelly said. "I think it's made us a better company because we have learned to be nimble and flexible for our customers."
Ready to order your dream fan? Give us a call today at 972-834-5555; we LOVE to chat with all our customers or visit
If you enjoyed this article, check out How Cooling a Barndominium Led to The Original Windmill Ceiling Fan Company and Equestrian Spotlight: The World Equestrian Center