What Is the Farmhouse Style?
When you live in the suburbs with neighbors close by and the hustle and bustle of the city not too far away, it can feel like you're the furthest away from where you want to be: the farmhouse. Ah yes, the farmhouse style — fresh air … lots and lots of land… laid back … that trademark feeling of comfort and coziness.
And that's just while you're standing on the front porch!
Not all of us are lucky enough to live on such a thin slice of heaven. But what if we were to tell you that you're not as far away as you might think? The farmhouse style you've grown to love can be recreated in any house — regardless of where you live and what kind of design you feel like you're stuck in right now.
How to achieve the farmhouse style
The farmhouse style has been around for centuries, starting, of course, with the actual farmhouses lived in by the earliest U.S. settlers. These humble abodes were simple, located on agricultural (or rural) land, and built out of necessity. And the individuals and families who lived in them either owned or worked on the adjoining farm.
Since those early days, homeowners far and wide have wanted to achieve the same farmhouse style — even if they live in the city, suburbs, or on the ranch. The style is characterized by the following:
Neutral color palette (grays, whites, aqua, yellows)
Unfinished, stripped, or natural wood pieces
Antique furniture
Wall accent pieces and knickknacks
Practical and functional living spaces
Laid-back, comfortable, and inviting atmosphere
Exposed beams, hardwood floors, and pillars
Once you perfect your farmhouse style, get the windmill ceiling fan to match.
Once you have the perfect farmhouse style for your space, the last thing you want is for the ceiling fan(s) not to match. Unfortunately, most fans on store shelves might keep you cool in the summer, but they aren't going to match whatever look you're going for at home. This is where The Original Windmill Ceiling Fan Company can help.
Farmhouse, Western, Rustic, and Modern Farmhouse designs are just a few of the top finishes our customers ask about when customizing the perfect windmill fan. And the possibilities are literally endless.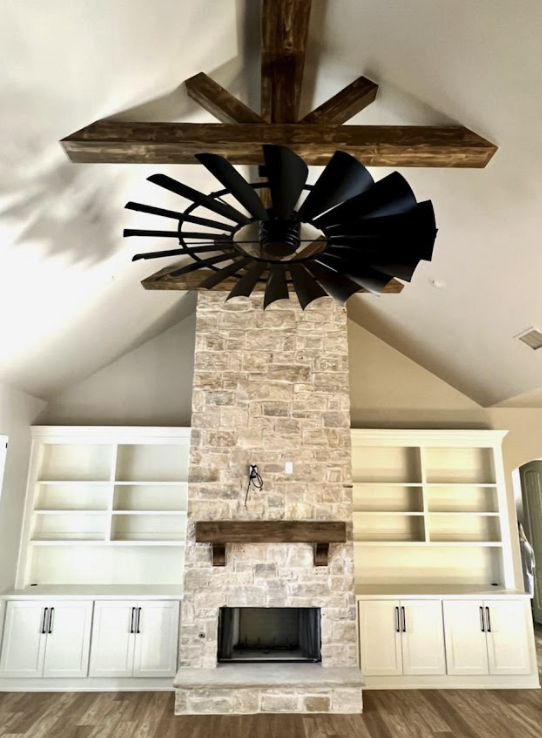 Imagine a windmill ceiling fan that checks all of these boxes:
Personable and unique — no two fans are alike
Match fixtures and furniture with ease
Designed to fit the size and space of your home
Unrivaled strength and quality craftsmanship — Not only do you have control over the design of the fan, but there is more attention to detail in both the fan's manufacturing and the assembly.
Assembled in Texas
There's no need to imagine anymore. The perfect windmill ceiling fan can be your reality!
Every inch of our windmill ceiling fans, from the blades to the motor, is 100% customizable and built to suit all your western and rustic design needs. Sure, there are tons of options for mass-produced products, so you could keep looking and pray that you find that prized needle in the haystack. But who has that kind of time?
Rather than sitting on a shelf in a factory warehouse, our fans are 100% customizable. And our craftsmanship is catered to your every need. Every last nook and cranny of each fan, right down to the lightweight aluminum custom finish, is made to suit each order. On top of that, we deliver a one-of-a-kind look, feel, and unrivaled strength and craftsmanship.
Do you want to learn more? Give us a call today at 972-834-5555 or visit www.windmillceilingfans.com.
If you enjoyed this article, check out ​​Western Design vs. Rustic Farmhouse Design: What's the Difference? and What Makes a Custom Finish Option for Windmill Ceiling Fans so Awesome?