Where do the custom finish 'names' come from for our windmill ceiling fans?
Anyone who has purchased a one-of-a-kind windmill ceiling fan from us knows by now that it's a completely customizable buying experience. What we mean by that is that from the blade size to the design of the fan and even the ability to create just the right color and finish, they are getting a fan that is unique to their style and taste.
The ability to choose a unique color and finish is enough to make anyone excited to buy a ceiling fan.
Maybe it's a turquoise finish for the blades and a thin matte black line to define the tips.
Oooh, but a weathered barn tin look might be great on the patio! Now that would make you the envy of the neighborhood. The possibilities are endless. But one question they always ask is: "Where do the custom finish names come from?"
We can't blame them for asking. Below are just a few we've come up with over the years:
Aspen Timber
Patina Copper
Texas Turquoise
Barn Metal
These custom finish names come from a variety of areas. Sometimes, the names are inspired by life experiences from living on the farm. Our owner, Kelly, draws from those days of simple country living all the time — fixing fences, baling hay, hunting, feeding livestock, and making and eating the best home-cooked meals ever. And it's not unheard of for a new name to pop up out of the blue when trying to help define a particular finish for a client.
In other instances, the names are simply born from what the customer wants. For example, they may want their new ceiling fan to match the barn metal accent pieces they have throughout their home. These custom finishes can be made to look exactly like the rust on old metal roofs. Patina Copper is also a very popular finish because it matches so many fixtures, paint colors, appliances, tables, and more.
Texas Turquoise is also perfect for someone who loves country and western wear. There is always room for some gorgeous turquoise jewelry, belt buckles, boot decor, and more. If you are a country girl, you usually love turquoise.
The customer may also decide that they want something new and fresh. Aspen Timber is a perfect example, as it reminded one customer of the trees in Aspen during the winter months.
The bottom line is that these are all descriptive and unique names you just don't see anywhere else — and they all tell a story. They're perfect considering that, ultimately, you want a windmill ceiling fan that no one has seen before.
A custom finish option can be your reality!
From the blades to the motor, every inch of our windmill ceiling fans is 100% customizable and built to suit. We once had a customer choose a finish to match their favorite car. We've had others who have chosen a silver-colored and galvanized look, a weathered look, and rustic copper.
Need something that's powder-coated or in an oil-rubbed bronze look? We can do that, too.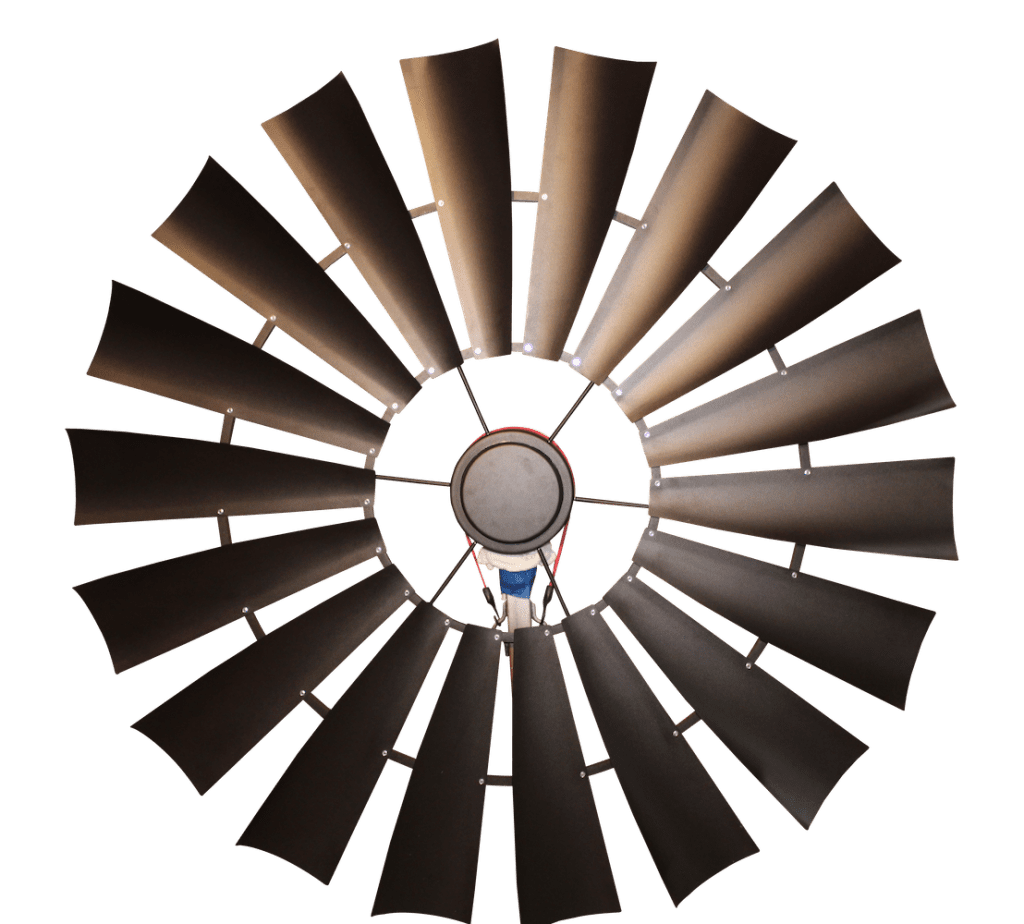 The Original Windmill Ceiling Fan Company is the best choice for your next custom windmill ceiling fan purchase. Sure, there are tons of options out there when it comes to mass-produced products, so you could keep looking and pray that you find that prized needle in the haystack. But who has that kind of time?
Do you want to learn more? Give us a call today at 972-834-5555 or visit www.windmillceilingfans.com.
If you enjoyed this article, check out Popular Design Trends That Can Put Your Next Ceiling Fan in Another Stratosphere, What Makes a Custom Finish Option for Windmill Ceiling Fans so Awesome? and Local Heroes Series: Fallon Taylor.